1. The Water District does the best job possible supplying us with the term utility water. Utility water takes care of our basic needs for. The main focus of any municipal water company is to meet regulations and to treat water against bacterial growth to avoid epidemic tragedy. This is why chlorine is put in our water. It is not economically possible for the water district to soften our water for our homes by removing all the hardness or to purify the water for drinking water, they to the best job possible.
The City water has between 600-700 ppm (parts per million) of TDS (total dissolved solids). Substances are measured in ppm and ppb (parts per billion). An updated water analysis from the Las Vegas Valley Water District can be viewed and/or obtained at anytime. The report shows over 100 possible substances which are monitored by the State of Nevada and the EPA (Environmental Protection Agency).
For peace of mind, call or email Superior Water Sytems.
2. Items such as arsenic, alkali, barium, copper, calcium, carbon dioxide, chloride, coliform, fluoride, lead, nitrates, sulfide, sodium, trihalomethanes, zinc and many more are present in Las Vegas water. However, the analysis shows that all of these are below the EPA standard MCL (Maximum Contamination Level). Many other items are ND (Not Detected at All). The two things which cause the most exposure and discomfort are the hardness minerals and chlorine.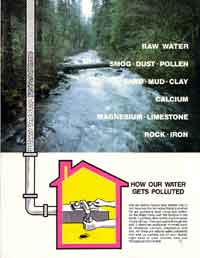 For peace of mind, call or email Superior Water Sytems.
3. Well water can be both better and worse. Some well have very little hardness minerals which others have been measured at hardness levels 5 to 10 times higher than the Las Vegas Water. Some wells have sulfate odors and tastes which make it unbearable to drink, smell or even bathe in. While other well water tastes very pleasant like bottled water because there is no chlorine taste present. The flip side of this is that well water can at any time become contaminated with various types of bacteria unless treated with chlorine or in some other way this can be very dangerous.
For peace of mind, call or email Superior Water Sytems.
4. Bottled water comes in many different ways. Some bottled water has a higher mineral content than tap water. Other bottled water is called spring water. While other bottled water is made bye the reverse osmosis process or the distillation process. Obviously, part of what determines the purity of the water is the scheduled maintenance of these systems and regular filter changes. We've tested bottled water that comes out just like tap water, some that is fairly pure and others that are completely pure. Bottled water can be delivered to your home or you can buy it at a store in bottles or fill your own bottles – Two bottles on the same shelf, side by side can be complete opposites in quality.
By owning a reverse osmosis system, you control the quality of your water with regards to filter changes and maintenance. You can get your water tested at any time to check purity. By using a 24 gpd (gallon per day) membrane, you could use up to 24 gallons of water in a day so pure water is available at the touch of a button without the added cost of having to buy more bottles of water. No straining to pick up heavy bottles. Obviously we believe reverse osmosis is a better option.
For peace of mind, call or email Superior Water Sytems.
5. A water softener only softens water. A water conditioner could treat or filter in addition to softening water. Be aware though that, some companies and/or salespeople companies with call their water softener a water conditioner in an effort to mislead people into thinking their water softener does more than just soften water.
For peace of mind, call or email Superior Water Sytems.
6. Water softeners and water conditioners are regularly moved from one home to another. However, when listing a home for sale with a realtor, it is important to make sure the water softener and water conditioner doesn't stay with the home in the listing. A reverse osmosis is a little more sensitive. The older the reverse osmosis is, the more likely that moving it will produce leaks and/or problems. Therefore, we normally recommend leaving any reverse osmosis system which is over 3 years old and just buying a new one for the next home.
For peace of mind, call or email Superior Water Sytems.
7. First, choose a company with longevity. Over 90% of all businesses fail in the 1st 3 to 5 years. Make sure the company has the following : a current contractors license, city or county license where you live, current workman's compensation insurance and is a current member of the BBB. Confirm this by seeing current copies or by calling. 90% of the water companies listed in the yellow pages do not meet the criteria above.
Second, read the warranties and get in writing what the system will do and what's inside the water conditioner or water softener tanks. Make sure the manufacturer has been in business for over 10 years. Some salespeople will say anything, so make sure you can verify what's being said.
Superior Water Systems comes with all the necessary licenses with over 20 years experience in Las Vegas and sells equipment from long established manufacturers.They also offer the best warranties in the industry.
For peace of mind, call or email Superior Water Sytems.
8. Hardness of water is measured in gpg (grains per gallon) of hardness.
0-3 gpg of hardness is considered very soft
4-6 gpg of hardness is considered moderately soft
7-9 gpg of hardness is considered moderately hard
10-12 gpg of hardness is considered very hard
Over 12 gpg of hardness is considered extremely hard
Most of Las Vegas is from 20 to 25 gpg of hardness, twice as hard as what is considered very hard. Las Vegas has extremely hard water and is in the top 2% of hardness in the US.
For peace of mind, call or email Superior Water Sytems.
9. This is a question with many varied opinions. Many doctors consider it unsafe. The water district and the EPA say it's safe. Over 75% of the people who live in Las Vegas drink purified water of some kind.
Almost every doctor, lawyer and professional in Las Vegas drinks purified water at home and at work. Almost every business, restaurant, bar, office, grocery store, beauty salon, car wash, convenience store sells or supplies purified water. Without arguing the point, most everyone in Las Vegas already feels they need to drink purified water. For a current update of what's in the Vegas Valley water, go to Water District website. Superior Water Systems supplies reverse osmosis systems that remove 95-98% of everything in water.
For peace of mind, call or email Superior Water Sytems.
10. See our Savings chart and 10 crimes of raw hard water v/s soft water.
For peace of mind, call or email Superior Water Sytems.
11. Water softeners and water conditioners and reverse osmosis loops are being installed in most new homes today by the builder, this makes for a very neat and quick installation. Both systems can normally be installed in 2-3 hours total. In older houses which are not looped, the process is a little more time consuming but very easily done. An average installation for both takes 3-5 hours. Make sure you use a licensed contractor with lots of verified experience – Superior Water Systems has 20 years experience and thousands of installations with all the necessary licenses, etc.
For peace of mind, call or email Superior Water Sytems.
12. Filters should be changed at least once a year. Some lesser capacity filters require replacement every 3 to 6 months, but most larger capacity units require one filter change per year. The membrane can last 2 to 4 years and each year when the filters are replaced, the water purity is tested to see if the membrane needs to be replaced. Superior Water Systems mails reminders each year to our customers and uses the highest quality of filters available.
For peace of mind, call or email Superior Water Sytems.

13. Both salt and potassium can be used in either water softeners or water conditioner units. It can be interchanged and/or mixed together. Salt costs $3-$4 per bag and potassium costs $7-$10 per bag. This is simply a matter of preference. If someone is on a salt restricted diet, they should probably use potassium because there will be some excess salt or potassium absorbed through the skin during baths and showers. However, 75% of our customers use salt because it's cheaper and the reverse osmosis removes the salt from the drinking water.
For peace of mind, call or email Superior Water Sytems.
14. The term, no salt system can be very misleading. For example, there is no such thing as a no salt/potassium water softener. There are various types of systems available for various specific reasons which do not require softening the water. The primary no salt system is a type of Magnetic Water Treatment which temporarily changes the molecular structure of the water. These systems normally also have other filtration aspects added such as carbon, silica, KDF, etc. to help with bad taste and odors. Superior Water Systems has sold these systems for years for certain situations.
For peace of mind, call or email Superior Water Sytems.
15. The amount of salt used is based solely upon 3 things. The hardness of the water (gpg), the amount of water being used and the amount of salt being used during each regeneration process. As long as you can see salt or potassium in the tank, you're okay. Most families will use 1-2 bags per month, depending on water usage. Superior Water Systems uses the most up to date valves for reducing salt or potassium usage.
For peace of mind, call or email Superior Water Sytems.
16. Studies have proven that a normal family use of soft water regeneration not only does not harm a septic tank, but in some cases actually encourage bacterial growth in a septic tanks. However, regular septic tank maintenance and additives are still required. Supeior water has hundreds of customers in the Las Vegas Valley with septic tanks.
For peace of mind, call or email Superior Water Sytems.
17. The normal process takes 2-3 hours start to finish and involves several steps. The process uses 30 to 50 gallons of water. In an average family of 4, the regeneration process takes place every 3 to 4 days.
For peace of mind, call or email Superior Water Sytems.